Flexible, Responsive and Ready for Your Most Difficult Labeling Challenges.
Liberty Marking Systems offers in-depth expertise, comprehensive capabilities and extensive production capacity, as well as being very flexible and responsive to your particular label needs. We offer innovative labeling solutions from solving the most difficult high-temperature challenges to supplying stock labels off the shelf. Our support begins with assistance in selecting the right material and process for optimum performance.
However, the real difference is our responsiveness and service that has kept our customer retention rate at an extremely high level. Liberty maintains a 99% customer approval rating and a 98% on-time delivery record on a consistent basis. Our total commitment to customer satisfaction means we deliver on our promises. You can count on it!
An Experienced Team of Dedicated Professionals
From the management team to the craftsmen on the production floor, the team at Liberty Marking Systems is committed to delivering the highest quality labels at competitive prices. From the most difficult applications to stock labels, we want to exceed our customers' expectations.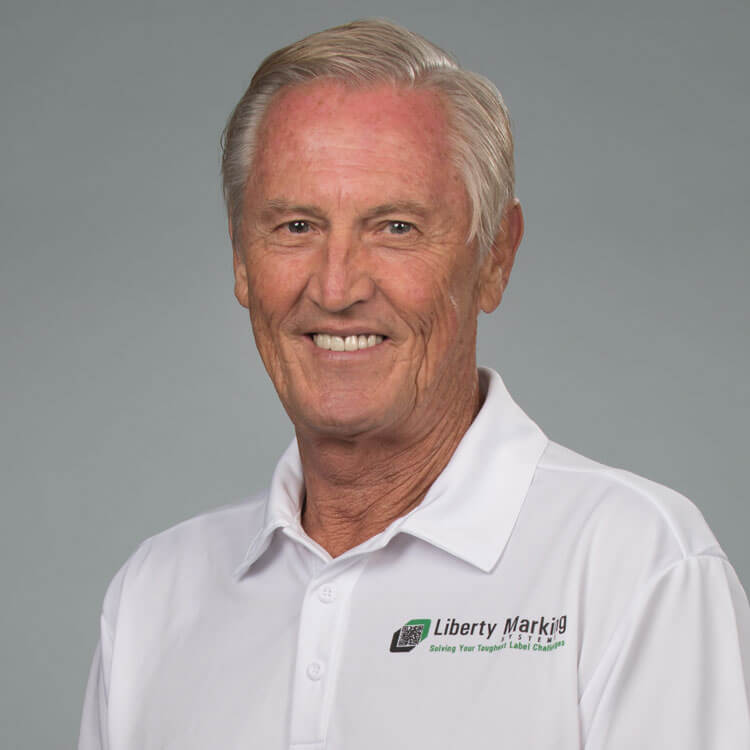 Tim Beam
Tim is the founder and CFO of Liberty Marking Systems. While Tim has taken a step back in the management of Liberty, he is still very much involved in the daily operations and enjoys the challenge of finding new ways to exceed customer expectations. His door is always open for employees when they need a collaborator in providing the right solution. Tim takes great pride in maintaining an environment our employees enjoy being a part of. This is proven by the low employee turnover the company has experienced in its 30+ years. We are truly the Liberty Marking family. He is married and has two wonderful children and FIVE glorious grandchildren. Tim enjoys traveling with his wife and is an avid Xavier University basketball fan.
Brian Beam
Brian has been with Liberty since 2007. With a BS degree from the University of Dayton, he spent his first seven years in Sales, before becoming Vice-President of Sales and Marketing in 2015, and President of the company in 2019.

Brian has been working on the company's infrastructure over the past few years, implementing IT based programs that are beneficial to the Liberty Team and our customers. His hope is to make it is as easy as possible to do business with Liberty, and to continue focusing on customers' ever-changing needs.

"My title is not indicative of what I do or how I view my role within the organization. Leading the team and serving our customers is what I am here to do, and it's one of the greatest joys of my life to have this opportunity."

Brian loves spending his free time doing outside activities with his wife and their 2 daughters.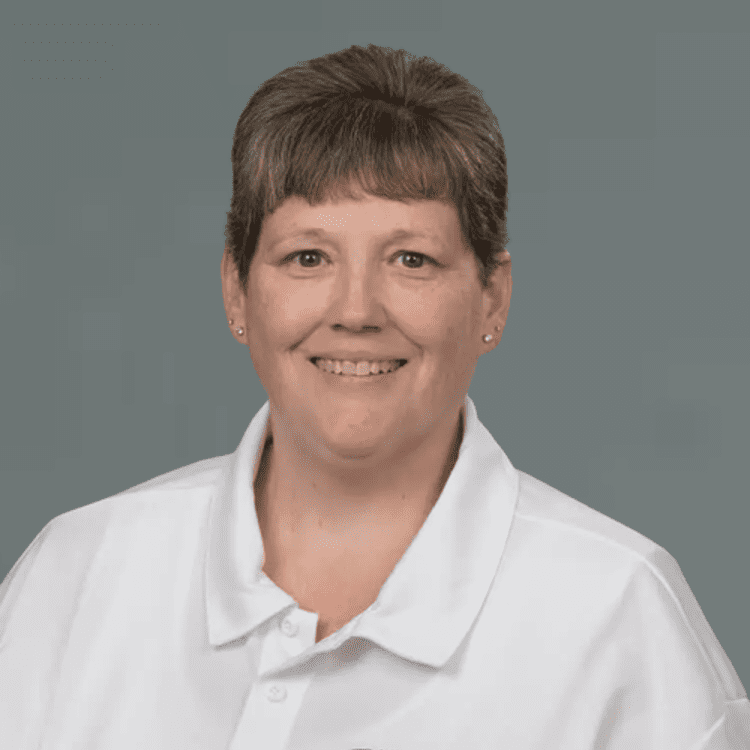 Linda Renshaw
Linda has been with Liberty for 25 years, processing orders and helping customers solve problems. Her meticulous attention to detail is the driving force behind Liberty's superior record of order accuracy.

Commitment to our customers is evidenced by her usually being the first one in the office and the last one to leave. Ensuring that orders and any other customer requirements are handled quickly and effectively. Linda is also the coordinator for rush turnaround and emergency shipments, which is a daily occurrence at Liberty. She plays a vital role in our customers' satisfaction year after year.

Linda is a die-hard Johnny Bench fan and enjoys spending free time with her nephews.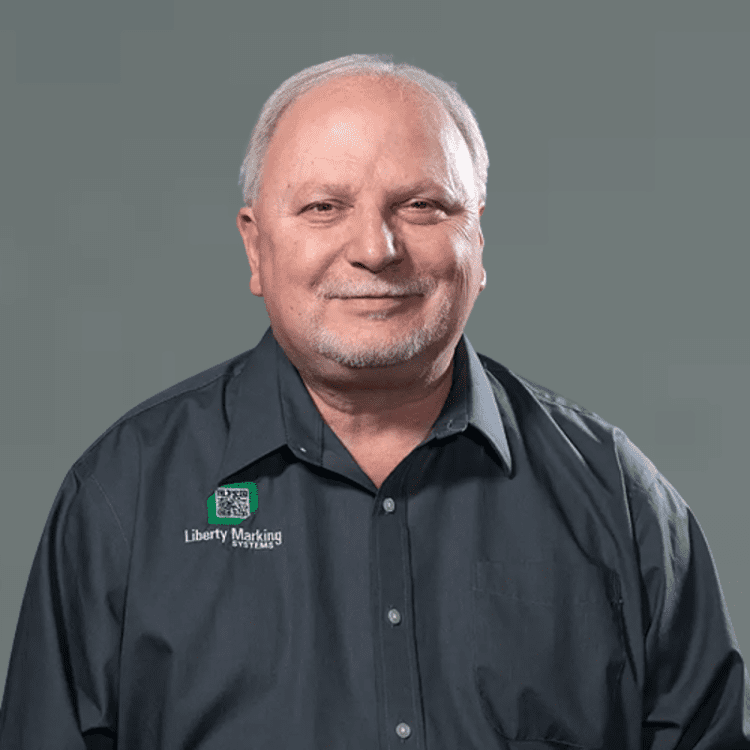 Stan Berger
Stan has been working in flexographic label production for over 41 years, including 25+ years with Liberty. With our main focus being on servicing the customer, Stan is constantly juggling the workflow of each press to ensure customers' needs are consistently being met.

He works very closely with the account executives and customer service to ensure that everyone is informed on the status of individual orders which is then communicated to the customer.

He has two sons that he spends time with and also enjoys driving his Mustang with the top down whenever he gets a chance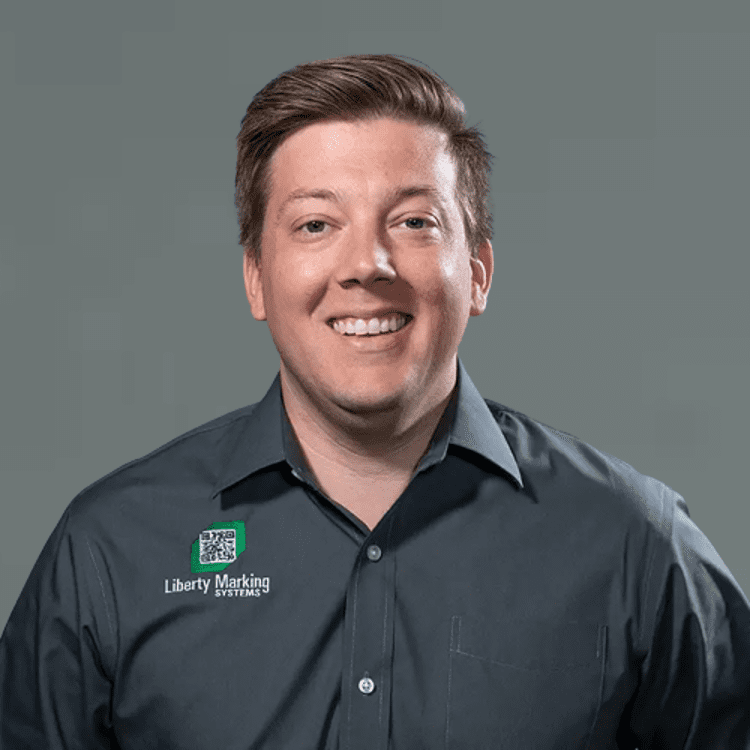 Matt Morandi
Matt brings 15 years of experience in people and process management to the Liberty family. He holds a BS in Management and Leadership from Franklin University in Columbus, OH. Matt's goal is to maintain standardized processes and procedures to surpass all regulatory requirements and to ensure that all aspects of our business run smoothly, and Liberty's response is quick and effective. Outside of work, Matt enjoys spending time with his wife, 2 daughters, their dog and extended family.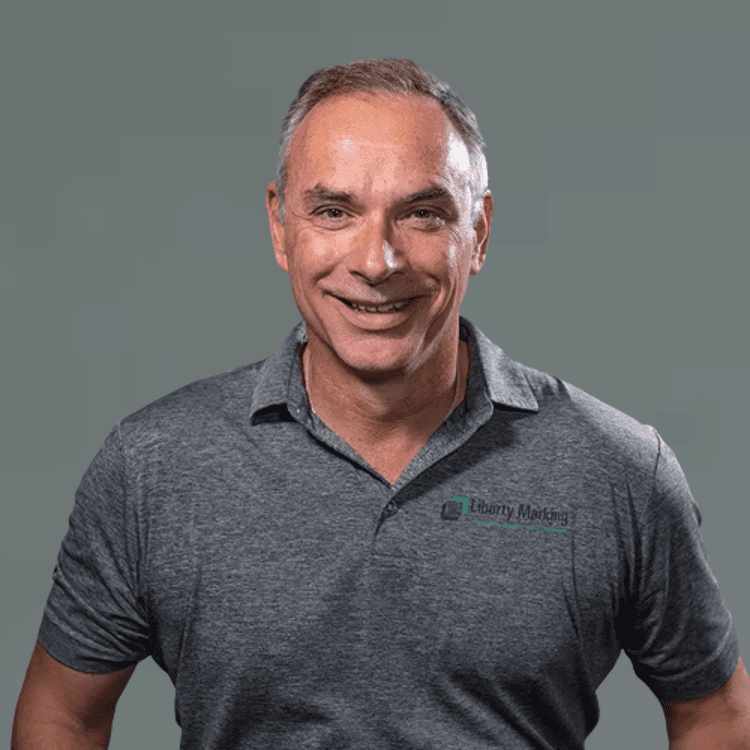 Steve McGrinder
Steve has been with Liberty since 2001. He takes pride in working cooperatively with the entire team at Liberty to serve customers' needs. His personal mission as "The Label Guy" is to be Competent, Accountable and Purposeful when dealing with all stakeholders. "I make mistakes and can fall short from time to time, but when I do, it is important to OWN IT, learn from it and make it right. Liberty's leadership provides me with the time and the tools to serve others in an impactful way." An empty nester, Steve resides in Oxford, home to Miami University, his alma mater and is dad to two adult sons.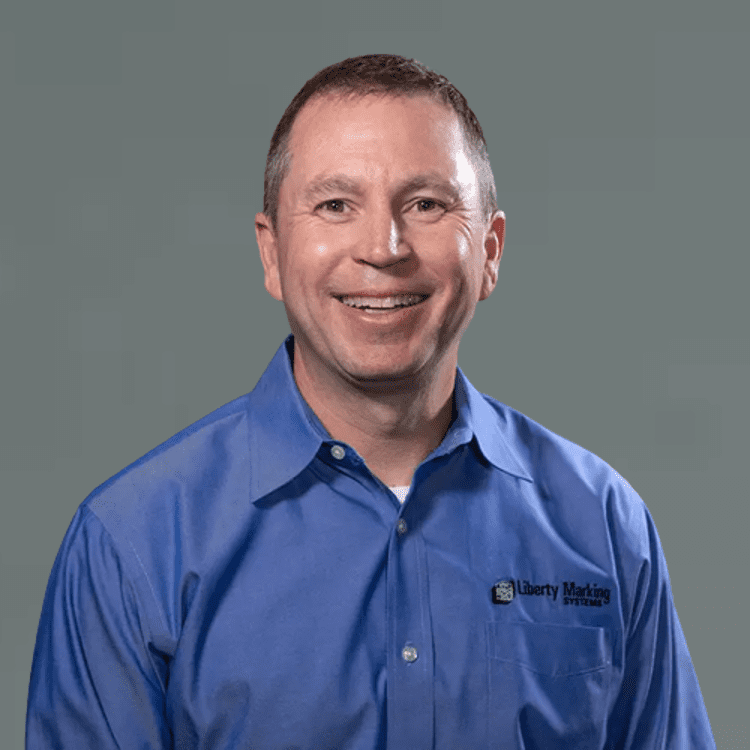 Kevin Hardin
An employee of Liberty for over 15 years, Kevin primarily handles customers in Ohio, Indiana, Kentucky and corporate accounts. He has dealt with virtually every application in every industry during his many years with Liberty. His experience and knowledge allows him to bring valuable assistance to our newer reps within the sales department. Kevin graduated from the University of Cincinnati and is a staunch Bearcat fan. He is married with two children and enjoys spending his spare time with sports and activities with family.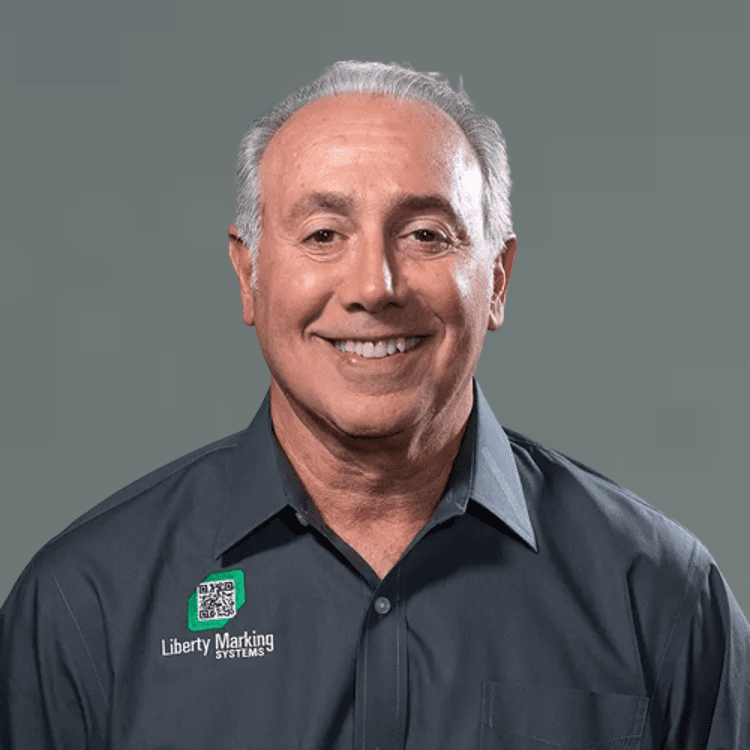 Patrick Starvaggi
Regional Account Executive
Patrick joined the Liberty Marking family in 2021 and brought a wealth of label industry experience to his position covering Ohio and Kentucky. He has been involved with printing, packaging and labels in the Tri-State area for over 30 years. With experience in all types of label applications, he prides himself on providing optimal solutions for his customers.

A graduate of the University of Akron, Pat holds dual degrees in Business Management and Transportation/Logistics. He played football as a strong safety at UA after a stellar high school football career. Patrick also coached for Moeller High School for 7 years.

He and his wife live in Loveland. His adult children and their families live in Cincinnati, allowing them to spend time with his grandchildren. In his free time, Pat stays active and enjoys golfing, hiking, fishing and just about anything outdoors or sports oriented.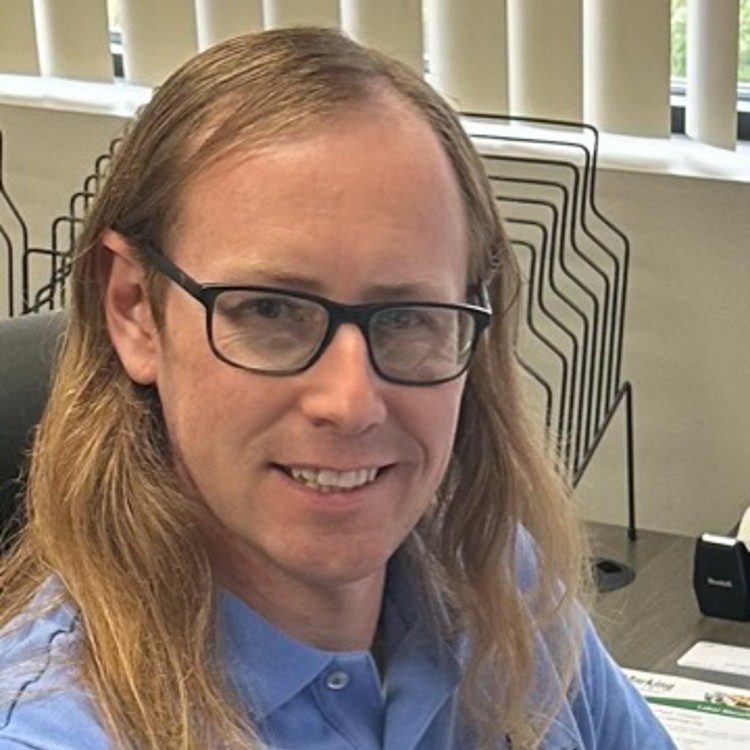 Eric Woodall
Inside Sales Representative
Eric joined Liberty Marking Systems in 2023. He has a background in estimating, project management and sales. He graduated with a bachelor's degree from the University of Cincinnati.

He will be working closely with existing customers and generating new business. His goal is to provide excellent customer service and proactively work to provide customers with the best solutions for the challenges they face. Liberty Marking takes great pride in being responsive, flexible and committed to customer service. Eric will be focused on maintaining that tradition.

Eric lives with his wife in Cincinnati. He has one stepdaughter. He enjoys hiking, camping, gardening and cooking. He loves being outside, even if it's just a lawn chair in the back yard.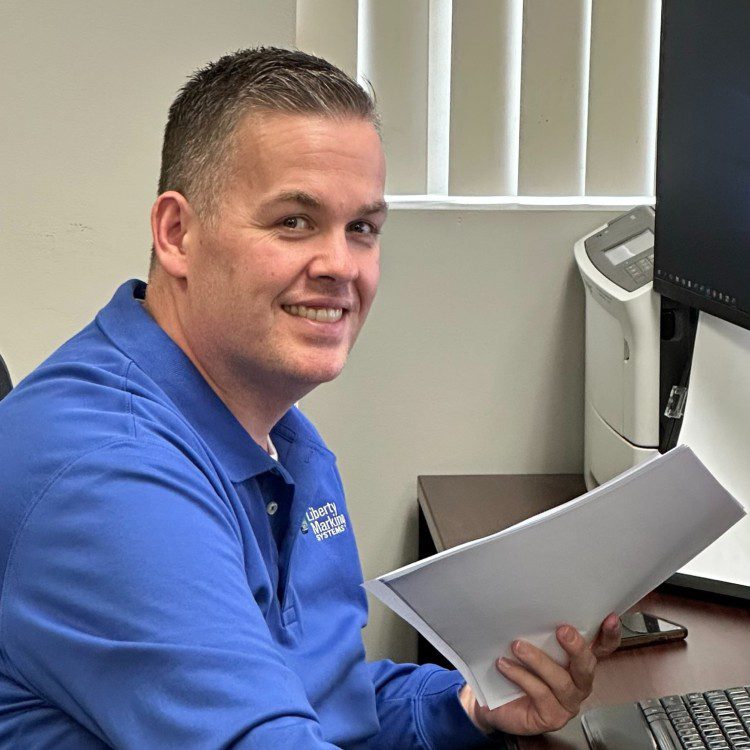 Kelly Wilson
Kelly Wilson has been a valued member of the Liberty Team since 2019, contributing in various functions, including our finishing department, shipping/receiving, inventory control and simply serving his fellow team members and our customers in any way necessary or possible. Kelly has recently taken over as the primary contact in accounting, while also assisting with other Customer Service Requests.

Kelly is conscientious, committed and a man of great character, who just happens to be one of the friendliest people you will ever meet. His passion is his lovely wife and kids while also has a love to hunt and fish play Basketball…all things INDIANA. Kelly states "My goal is to be the best co-worker and person anyone has ever known".
An American Success Story
Founder, Timothy Beam, started Liberty Marking in 1986. While working in the product identification and label business for 14 years, Tim often felt the companies he worked for were not totally committed to meeting customers' needs. He saw an opportunity to provide customers with what he thought they really deserved, so he started his own business to meet this need in the basement of his home. He brokered labels and sold one of the first barcode label printing systems, which was a small NEC computer and a Okidata dot matrix printer.
As the business grew, Tim spread into the living room and dining room, then eventually into a small office park. He would sell labels and printers by day and run labels on nights and weekends. Always trying to respond to customers' needs as fast as possible, Tim invested in a hot stamp label printer when his suppliers could not handle "hot-rush orders" as fast as customers wanted delivery.
In 1992, the company purchased a three-color, Mark Andy flexographic label printer to again meet customer requirements his suppliers were not able to handle. In 1994, the company purchased a four-color, 13" Roto-press, so it could manufacture some of the labels being sold.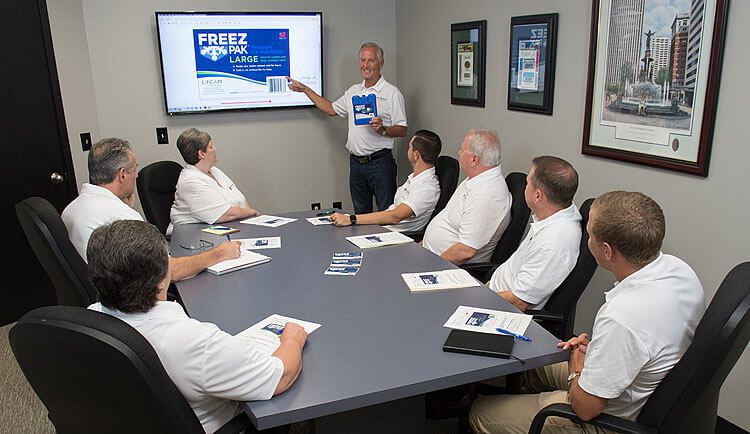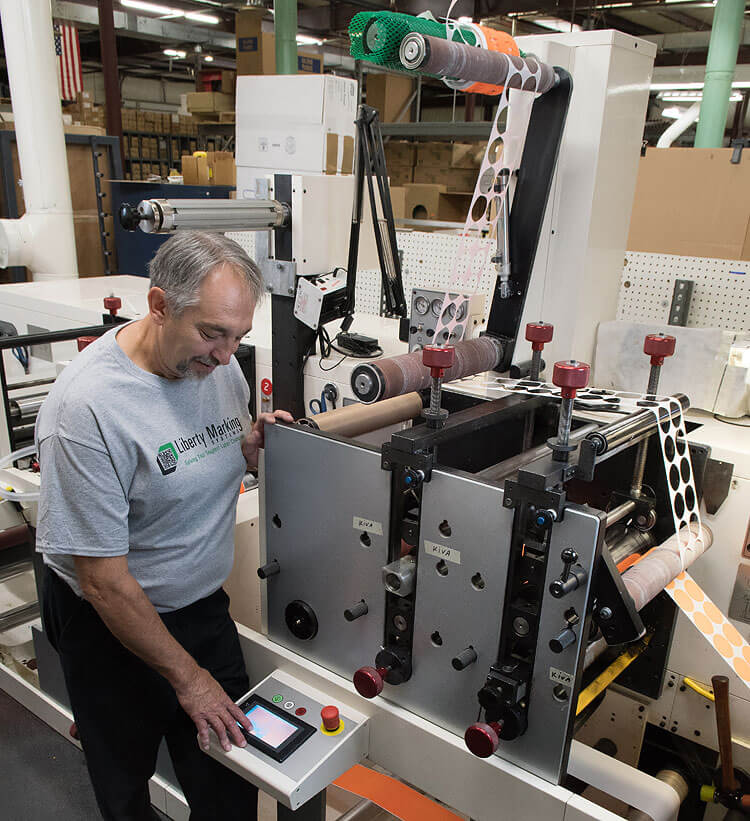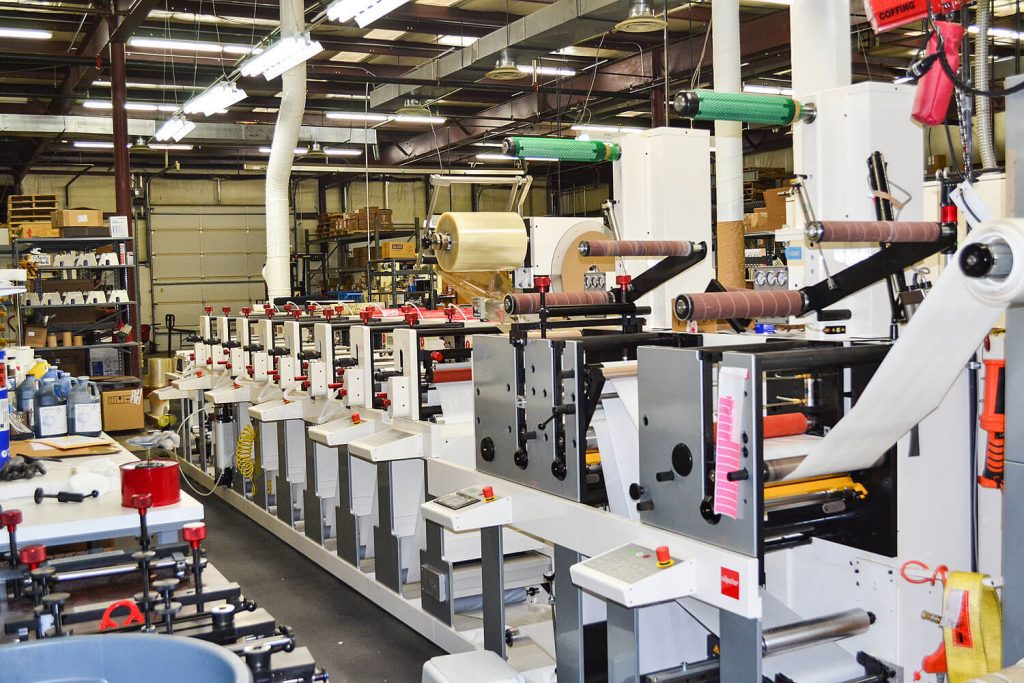 Liberty rented additional space for growth every few years in two more buildings to provide room, until they were able to purchase their own 16,000 square-foot building in 1997. This is Liberty's current home, but another 8,000 square feet were added in 2016 to accommodate additional capabilities and an additional 5,000 square feet in 2022. Liberty now has five flexographic presses and is able to print up to eight colors, a service bureau with eight thermal-transfer printers and a digital ink jet printer to produce variable data and short-run labels. In addition to investing in equipment, Liberty understands the importance of its employees and the valuable role they play in the company's success.
In 2007 Brian Beam, Tim's son, joined the business after graduating from the University of Dayton with a degree in Marketing and Entrepreneurship. Brian began his career at Liberty out on the road selling labels. After seven years of successful selling, he took over as Vice President of Sales and Marketing, and is now the current President.
Tim believes what has made Liberty successful is his philosophy to "Always treat the customer fairly, pull out all stops to take care of a customer's needs and meet emergency rush orders with whatever it takes." Brian plans to carry on this philosophy to guide Liberty for years to come.
"Always treat the customer fairly, pull out all stops to take care of a customer's needs and meet emergency rush orders with whatever it takes.
Liberty Marking Systems is committed to environmental and sustainability practices that minimize our negative impact on the planet while maximizing our positive contribution to society. To achieve our sustainability goals, we are continuously reviewing our production processes, minimizing waste, and decreasing energy consumption. We work closely with our suppliers to source sustainable materials, promote eco-friendly manufacturing practices, and encourage responsible product disposal and recycling.
One of our primary goals is to remain up to date on national and international standards and source products in compliance with REACH SVHC, RoHS, California Prop 65, Conflict Minerals, Ozone Depleting Substances, and other initiatives around the world.
We are committed to continuous improvement and innovation in our environmental and sustainability practices, and we welcome feedback and suggestions from our customers, partners, and stakeholders. Together, we can make a positive impact on the environment and ensure a sustainable future for generations to come.