The Ablr Drip My Cane 2.0 contest is part of the annual National White Cane Safety Day which celebrates the achievements of people who are blind or visually impaired and recognizes the white cane, not only as a tool for safe navigation, but independence for those who are blind. At Ablr, they believe that accessible designs don't have to look boring or bland. They started the contest because they believe it could be the catalyst for a new type of cane for the blind; one that combines style and safety, potentially breaking down walls, opening the door to people who otherwise might feel uncomfortable around someone with a "white cane."
For the contest, Ablr invited contestants to submit a design that would pair well with retro-reflective material, creating a stylistic cane that would not only be cool looking but due to the reflectivity of the material, would be functional and safe. This is where Liberty Marking comes into the story. Eone, a company that creates fashionable products that are accessible for everyone, was collaborating with Ablr for the 2021 contest. They knew that the key to the new cane would be to utilize a very special retro-reflective material. But the material turned out to be a major roadblock when talking to other label vendors. Retro-reflective material is expensive, often involving high minimums and long lead times.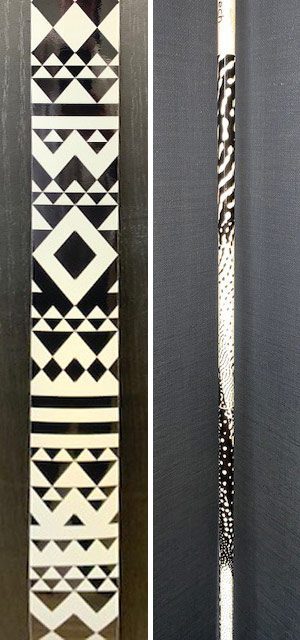 After having no luck finding a label partner, Eone contacted Liberty Marking Systems. Even with a tight deadline, Liberty didn't hesitate to help and jumped in quickly. "At Liberty, one of our values is "serve," which for us includes lending a hand to others, being kind and respecting all people. This type of project gave us an opportunity to live our values," stated Steve McGrinder, Business Development Ambassador at Liberty Marking.
With decades of experience in the labeling industry, Liberty knew that the project would be a challenge, especially in the midst of the supply chain issues the world was experiencing in 2021. Liberty, though, is fortunate to have strong relationships with suppliers, so immediately reached out to a well-respected partner, Decal Impressions, to see if it was possible to deliver the materials in the timing needed. Thanks to the dedicated and selfless efforts of Bryan Vielhauer and his team at Decal Impressions, they sourced the materials and delivered them to Liberty in order to meet the quick deadline.
In the end, Eone was able to design a functional and safe white cane that is cool and stylish in the timing needed for the Drip My Cane 2.0 contest. Check out the finished project in Ablr's post. https://www.youtube.com/watch?v=H8XTx-1FrUU